Behemoth of digital payments: UPI
Behemoth of digital payments: UPI
The UPI ecosystem after getting launched in 2016, has made a tremendous upsurge in numbers both in value & volume. Demonetization coupled with a sleek and easy to use interface had led UPI numbers to cross Rs 1 trillion mark.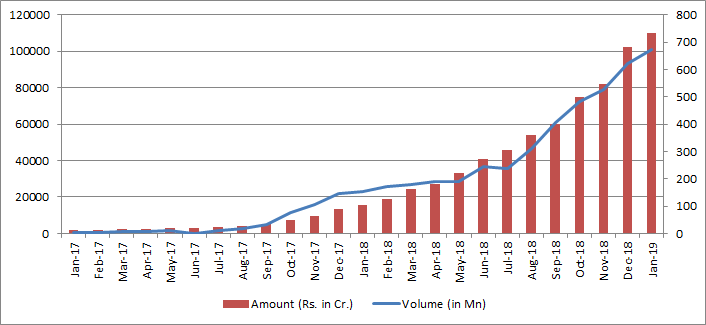 While the card transactions (both in value and volume) remained stagnant, they are still three times greater than UPI.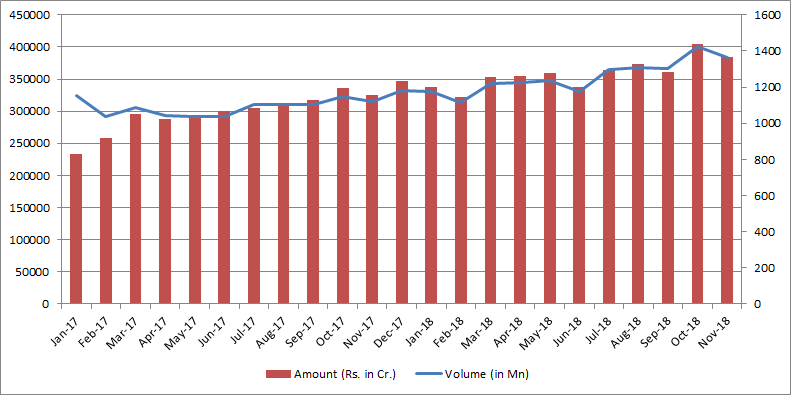 UPI 2.0, which has been launched by NPCI, covers more use-cases than the current version. Some of the features of UPI 2.0 would be:
Linking Overdraft account on UPI: Users can link OD account through UPI in addition to Current & Savings account. UPI would serve as a pioneer of OD account in digital medium
Invoice in inbox: This would allow the users to check the authenticity of the merchant and the amount paid. Before paying, the user would be able to access the invoice of the merchant
Signed Intent & QR: This allows the user to check the authenticity of the merchants while scanning the QR. Only after the QR has been authenticated by UPI, the user can make the payment. This prevents the tampering of QR which in large part solves the trust issues
For the distributors in the value chain, UPI can help in solving the leakages, trust issues, check clearance time etc. which would further reduce the working capital issue. The likes of Phonepe, Paytm and Googlepay has ushered in the huge adoption from consumer side. The merchant side needs a similar push so as to evolve the ecosystem further.
Come 2020, we can see UPI infrastructure to evolve further and set a benchmark in the payment space which all the countries can follow.